Smiley Sitton's Outlaw Driving School Classes
Phase II (Two days)
One student, 100 laps. A must for the aspiring sprint car driver or avid enthusiast. Two days of chassis technology and driving techniques. Covering the basic chassis set up as well as several of the most commonly used adjustments. You will be able to feel how the car is affected as the set ups are changed giving you the confidence to make your own car comfortable in race situations.
Phase II-A
As Phase II above but with 150 laps, more track time and more instruction.
Phase II-B
Same as Phase II but with 200 laps, and more extensive training.
Phase III (Three days)
One student, 200 laps. This class is a continuation of phase II with more advanced chassis technologies explained as well as more seat time.
Phase III-A
Same as Phase III but with 250 laps, plus more extensive instruction.
Phase III-B
Same as Phase III but with 300 laps, plus more advanced instruction.
Phase IV (Four days)
One student, 300 laps. Our most advanced pro session. This class offers the most chassis technology taught by any school in the nation.
305 Class
Due to the growing nationwide popularity of 305 Sprint racing, we are now offering a special 305 school. We have won over 50% of the feature events entered in the first two seasons for the Sprint Series of Texas. You can drive a multi-feature winning car and learn from a multi-featuring winning driver, crew and car owner.
Bring Your Own Car
One student, Phase II, III and IV programs available. For racers with their own Sprint Car looking to get an advantage, this class is invaluable.
Custom Programs
One student, custom program. Smiley will work with you to design a custom program tailored to meet your needs.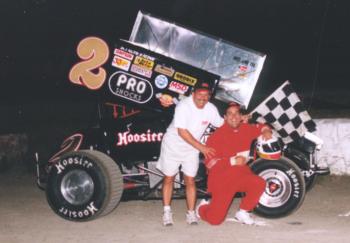 Ralph Sheneen (TNN) and Danny Lasoski.
Taken at the school for TNN World of Outlaws TV Crew.
Call (214) 331-4664 or (972) 290-7033 to reserve your seat.
If you miss us please leave a message and we WILL call you back.
Please mention you saw us on the internet.
Smiley Sitton's Outlaw Driving School
P.O. Box 210739
Dallas, TX 75211
(214) 331-4664 or (972) 290-7033